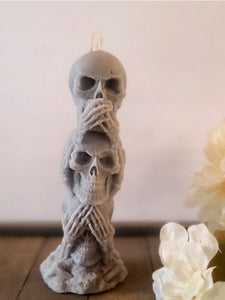 J&M Creations of El Paso
No Evil Scented Skull Candle (grey)
Regular price
$20.00
$0.00
Unit price
per
Tax included.
The embodiment of the Japanese proverbial principle of "see no evil, hear no evil, speak no evil."
Great gift or as a home décor to serve as a daily reminder to be a good human: "good mind, speech, and action."
Color: light grey. 
Height: 7.4 inches
Base Width: 2.5 inches
Net Weight: 7oz
Hand poured with premium soy wax blend and non-toxic fragrance oils.
Hand made in El Paso, TX
Suggested use: decorative candle. 
Scent Descriptions:
Campfire Stories: Nostalgic vibes with notes of smoky cedar wood. Just like sitting by a campfire. 
Cowboy: Seductive vibes with strong notes of manly musk. Very clean. 
Smoke & Suede: Notes of Cuban Tabaco leaf and oriental spice. 
Suit & Tie: Smells like a well-groomed bearded man. Very suave. 
Please follow safe burning instructions: 
Burn only in suitable container. 
Burn for no more than 3 hours at a time. 
Keep away from small children, pets, and drafty areas. 
Never leave a burning candle unattended. 
---